Phytosphingosine is plant-derived sphingosine, an integral part of ceramides and naturally occurring in the skin. It is part of the group of complex lipids that are called sphingoid bases. Sphingoid bases and ceramides are present in high levels and are the crucial components of the stratum corneum, they play an important role in the skin's natural defense system and inhibit the development of various microorganisms.
Phytosphingosine is obtained biotechnologically through yeast fermentation, using mainly Pichia ciferrii. Its unique and excellent properties as an antimicrobial and anti-inflammatory agent demonstrate efficient synergistic effects in the treatment of the skin with acne and inflammation with significant microbial imbalance. It boosts repair processes in damaged skin and replenishes the barrier.
This essential ingredient strengthens the skin's natural protective barrier to soothe irritation, lock in hydration, and smooth skin. Thanks to anti-inflammatory and anti-microbial (effective against Propionibacterium acnes and Staphylococcus aureus) activity, phytosphingosine showed excellent results in acne treatment, resulting in a good effect on the skin state of acne-prone people. Furthermore, clinical studies that have been performed on acne patients demonstrate the prospect of phytosphingosine to enhance or complement existing acne therapies.
Phytosphingosine reduces the inflammation of papules and pustules, caused by comedones that block pores due to increased hyperkeratinization caused by hormonal imbalance. After overexposure to UV radiation, it acts as an anti-inflammatory agent, reducing UV-induced skin irritation.
Phytosphingosine is an active ingredient for anti-aging, skin-soothing, and anti-acne applications. It effectively reduces the signs of irritated, inflamed, and blemished skin, exposing a healthy, calm, and radiant appearance.
Active ingredients (or INCI)
F.A.Q.
Is there proof of the effectiveness of phytosphingosine for acne treatment?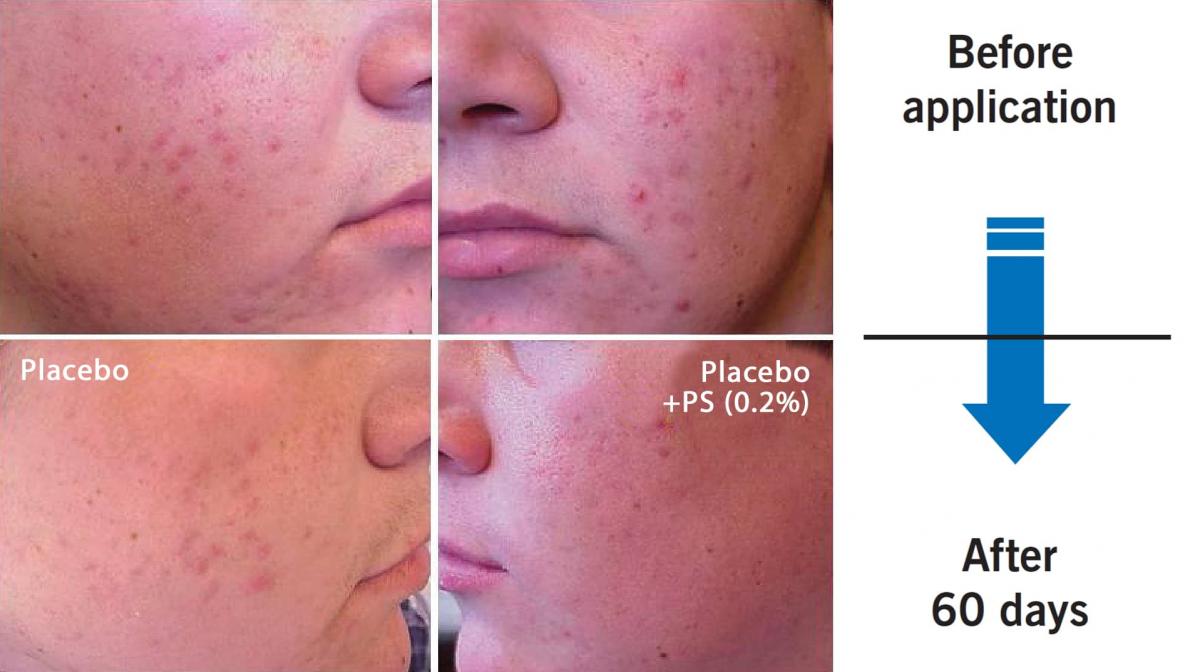 Yes, an in vitro and in vivo clinical study was conducted to test phytosphingosine treatment against Acne Vulgaris. The study showed that plant-derived sphingosine (PS) significantly improves skin condition even in a minimal 0.2% concentration in the formula.
Besides different measurements and analytical methods, scientists took photos before and after a 60-day long treatment. Clinical photographs were taken on day 0 and after 60 days in the second treatment group: Placebo vs. phytosphingosine.
What are the benefits and advantages of phytosphingosine?
Obtained biotechnologically by yeast fermentation;

a natural ingredient with ECOCERT certification

Has unique properties as an antimicrobial and anti-inflammatory agent

Promotes cell renewal and hydration by maintaining and restoring the integrity of the skin barrier

Synergistic effects in the treatment of acne

Increased hydration and reduced roughness, by increasing the skin's water retention capacity

Provides improvement in the appearance of redness, inflammation, and skin blemishes