Hydroxypinacolone Retinoate is a pure ester form of Tretinoin (all-trans-Retinoic acid) that works similarly to Retin-A but without the irritation of Tretinoin. This pure pinacolyl ester of trans-retinoic acid is designed for high stability, low irritation, and effective activity and dermal delivery in skin care applications.
This "ProTretinoin" delivery form significantly reduces the irritation potential, without diminishing the cosmetic treatment potential. Incorporated in cosmetics, Hydroxypinacolone Retinoate decreases the effects of sunlight-induced aging and is a useful ingredient in anti-acne preparations.
Unlike Tretinoin, the improved mildness allows Hydroxypinacolone Retinoate to be co-formulated with anti-acne products like salicylic acid and its salts, so long as the retinoic ester is protected in the oil phase of an emulsion. In addition, compared with Tretinoin it does not require a prescription to use.
Hydroxypinacolone Retinoate is a safe, non-irritating, non-mutagenic,  and non-sensitizing ingredient,  currently available in most global regions. It is used in anti-aging and anti-acne products in serum, gel cream, and lotion forms.
F.A.Q.
What is Tretinoin?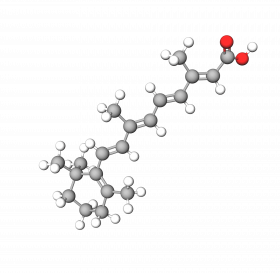 The prescriptive drug active Tretinoin is the all-trans isomer of retinoic acid and is a topical form of delivering vitamin A. It helps the skin to renew itself more quickly and therefore reduces pimple and blackhead formation, and may improve the appearance and texture of skin.
Retin-A® (TM Ortho Dermatological) is Tretinoin topically used to treat acne. The Renova® brand (TM Ortho Dermatological) of Tretinoin topical is used to reduce the appearance of fine wrinkles and mottled skin discoloration, fix age spots, and make rough facial skin feel smoother.  All of these products are exclusively in the acid form and can peel/irritate the skin and increase the sensitivity of the skin to sun exposure.
Is there proof of efficacy for Hydroxypinacolone Retinoate?
Clinical tests with skincare applications containing 0.1% Pinacolyl trans-retinoate showed:
Skin surface roughness improvements occurred within one to two weeks of using this product - about 50%  improvement was noted.
During the ending survey, 100% of the participants responded that skin roughness, dryness, tone, radiance, softness, firmness, tightness, elasticity, and overall skin condition were significantly improved.
Significant Improvements were noted in skin surface scaling, a potential indicator of irritation and dryness.
80% of the panelists responded that this formula significantly reduced fine lines and wrinkles, diminished the appearance of age spots, skin discolorations, and freckles, and improved sun-damaged skin.