Matrixyl™ synthe'6™ is a potent peptide that boosts six skin-rebuilding essentials: macromolecules - proteins and glycosaminoglycans.
These macromolecules play a vital role in the skin; here is the list:
Collagen I – constitutes the most abundant amount of collagen in the tissues (approx 30%) and overall in the dermis (80%). The collagen molecules auto assemble one another to form the characteristic fibers of the tissues. Collagen I makes up the cross-linked structure that can resist the various physical stresses the skin undergoes.
Collagen III – known as the collagen of youth, collagen III is produced during the early phases of wound healing. It is thought to be partly responsible for skin smoothness.
Fibronectin – are multi adhesive soluble proteins that help attach cells to the various types of collagen. They also have an essential function in cell migration and differentiation.
Hyaluronic Acid is a critical component responsible for water retention in the tissue and regulating cell proliferation and wound healing.
Collagen IV – is an anchorage protein (that is also a part of Laminin-5 – see below) found at the base of the membrane, at the interface of the extracellular matrix of the dermis, and the basal layer cells.
Laminin-5 – is an adhesive glycoprotein involved in the healing of injured dermis.
It is a high-tech treatment that profoundly reduces wrinkles by rebuilding the skin where it is most needed.
Active ingredients (or INCI)
F.A.Q.
How Matrixyl™ synthe'6™ keeps the skin looking younger?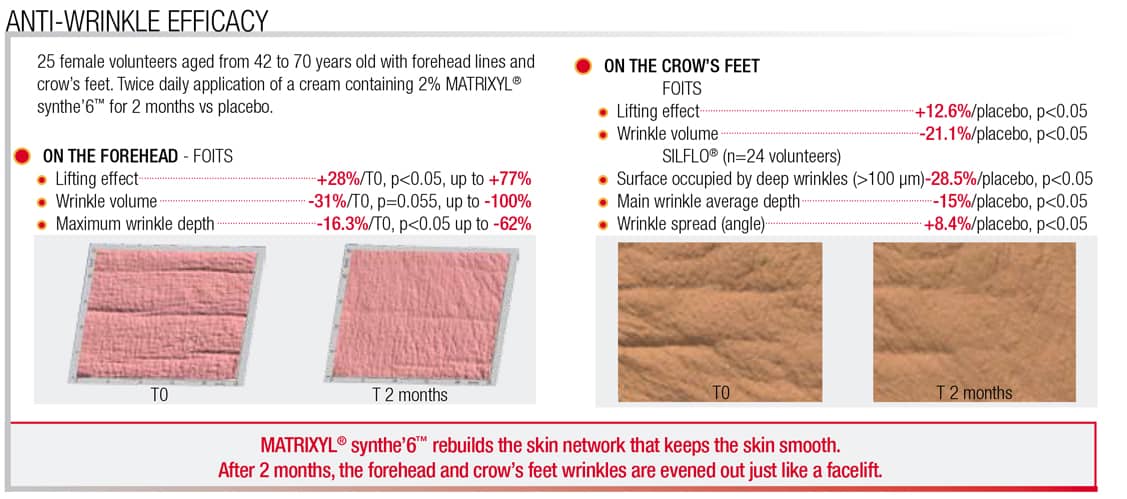 Matrixyl Synthe-6 is a matrikine-mimetic peptide developed by Sederma. It provides building material by stimulating the synthesis of the six rejuvenating molecules. Furthermore, with the help of the protein HSP47, it can manage the architectural organization of the molecules, thus allowing for the complete maturation and stabilization of fibers.
With only one intervention, the consumer will benefit from this ingredient, a rejuvenating lifting effect thanks to the joint reduction of the forehead and the crow's feet wrinkles.
For all women and men, wrinkles represent apparent signs of aging. Facelifts, which are major surgical procedures, and repeated injections of fillers, such as collagen and hyaluronic acid, can work. However, we can avoid these invasive techniques with their sometimes devastating results by using formulas with plumping actions, such as sophisticated ingredients like Matrixyl synthe-6 that work on skin tissue structure.
Is there proof of the Matrixyl™ synthe'6™ effectiveness?
In vivo tests were carried out on 25 volunteers, twice daily applying a 2% Matrixyl Synthe-6 containing cream. A potent peptide as an active ingredient showed the following results:
Decrease in the surface area occupied by deep crow's feet wrinkles -28.5% after two months

Reduction in the volume of crow's feet wrinkles -21.1% after two months

Decrease

the volume of wrinkles on the forehead up to -100% after two months